Dott e-scooters launch in Madrid with low fares for everyday use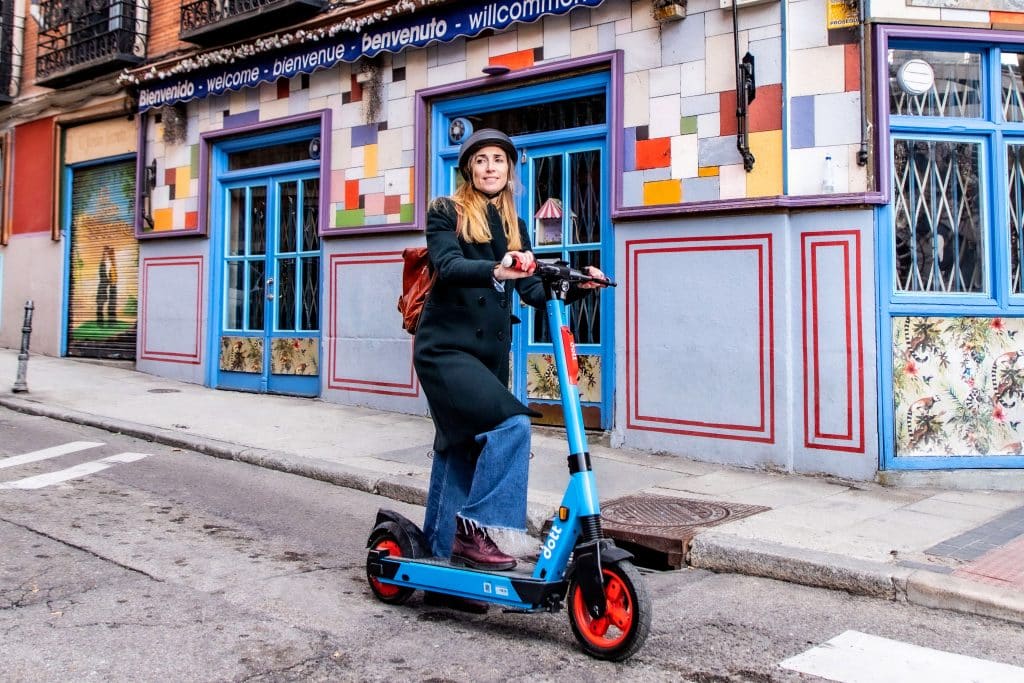 Image available here
Dott, the responsible micromobility operator, today launches a fleet of 2,000 shared e-scooters in the city of Madrid. Priced for everyday use and mirroring metro tickets, rides will cost just €1.50 per trip, when using a €4.99 monthly pass. Pay as you go prices are available at just €3 per trip.1 
The simple, fixed pricing makes it easy for users to know how much they will be charged before their trip, removing any unexpected surprises from pay-per-minute fees. And by charging per trip rather than per minute, riders are encouraged to travel safely, instead of rushing their journey to save costs. 
Dott has invested €3 million into Madrid, establishing a high quality operations centre, hiring and training specialist mechanics and ground teams, and providing the latest generation of e-scooters. In-house operations ensure a reliable service for riders, well integrated into the city, with well-maintained vehicles and orderly parking. 
Dott's service has been integrated with the Madrid 360 app. The collaboration encourages multimodality, combining public transport services with shared micromobility for first and last mile trips. 
Maxim Romain, Co-Founder and COO, Dott, said: "Our aim is to offer an affordable, safe and orderly e-scooter service for everyone in Madrid. Our simple fixed pricing, similar to Madrid's metro fares, will enable locals to benefit from our service everyday. We are highly committed to the city, with an investment of  3 million euros this year to build our Madrid in-house operations, and provide a safe and reliable service on a daily basis."
Vehicles feature large (12") wheels for stability, front, rear and indicator lights, and a phone holder. Speed limits are built into Dott's vehicles, with lower speeds set for heavily pedestrian areas. To encourage safe riding, over 1 million spaces will be made available at a series of regular safe driving courses, which will be free to join.  
Dott is the responsible city partner, and supports regulation to ensure that its vehicles are carefully integrated. Vehicles can be found and parked at one of over 2000 parking spots located across the city. When ending a trip, the rider must take a photo of their parking, with 100% of images validated manually to confirm correct parking. 
Dott's shared e-scooters are available through the Dott app, with all new users receiving their first ride for free.2 
The environment and social impact are at the heart of every business decision at Dott. The micromobility company has set out its goals and progress at ridedott.com/sustainability.  
-ENDS- 
Notes to editors
1 €3 per ride up to 30 minutes per ride. Then €0.3 per extra minute. 
2

After registering, users can enter the promo code HOLAMADRID into the Dott app, to receive a free 30 minute ride.
-ENDS-
About Dott
Dott is a European micromobility operator founded by Henri Moissinac and Maxim Romain, with the mission to free our cities with clean rides for everyone. Dott currently operates over 40,000 e-scooters and 10,000 e-bikes in top cities in Belgium, France, Israel, Italy, Poland, Spain, Sweden and the UK. Dott has won two of the biggest micromobility tenders in the world, in both Paris and in London. Dott has a staff of over 600, with its main teams located in Amsterdam, London and Paris.